When I first visited Ireland in my early twenties, it was a short trip for pleasure, not for family history, but I felt so much at home with the Irish that I knew that one day I would go back.
It was to be another forty years before I travelled there again, this time with my sister, to discover more about where my ancestors lived and what their lives were like. One of those places was the small village of Ballinkillin (Baile an Cuileann) in County Carlow, about eight kilometres south of Bagenalstown (Muine Bheag). Ballinkillin's main claim to fame is that the heroine of the Battle of Kilcumney (1798), Teresa Malone, is buried in the churchyard grounds as are the parents of Cardinal Moran (Archbishop of Sydney) – Patrick and Alicia.
One place that should be a 'must do' on an ancestral journey is a visit to the local cemetery or graveyard. Headstones can yield so much family information and can lead to breakthroughs in family history research.
The church of St Lazerian
My great grandmother, Annie O'Neill (nee Lowry), the third daughter of James and Annie Lowry, was born on 18 October 1859 and baptised on 30 October 1859 in St Lazerian, the Ballinkillin Catholic church.1 This was the same church in which her parents married in 1855. St Lazerian's was built about 1793 and is one of the oldest churches in the Catholic Diocese of Kildare and Leighlin.
In most villages in Ireland, the church dominates the landscape and Ballinkillin is no exception. My sister and I wandered through the churchyard, taking photos of headstones with family names, some known to me and others not. One day I may determine how they are related.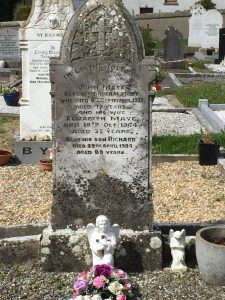 Elizabeth, second youngest of the Lowry sisters and my great great aunt, and her husband John Maye are buried here.
Elizabeth and John's daughter Mary, and her husband Richard Maher, are nearby.
The Lowry family
James Lowry worked for the railroad as a plate layer or lengthsman. In 1859, the year Annie was born, the population of Ballinkillin was 305; 100 males, 120 females and eighty-five children. Today its population is just over seventy.
I know very little about Annie's childhood or that of her five sisters – Catherine (Kate), Bridget, Alice, Elizabeth and Theresa. Did they attend school and have their first communion and confirmation in the church? Who were their friends? What kind of house did they live in? How did they meet their husbands?
However, small clues about their life can be found in various Irish record collections. For example, I know that the Lowry family had pigs as James was fined in 1861 and again in 1862 for allowing his pigs to wander onto the road – it appeared to be a common offence for many.2
I also know that by 1881, Kate had moved to London and was working as a domestic servant.3 By 1885, five of the sisters had emigrated – three to Australia and two to America, while Elizabeth remained in Ireland, perhaps to care for her parents.
You can discover more about the six daughters of James and Annie Lowry in this blog post.
Quote FOFMPCS21 to receive a 20% discount on a 12-month PRO subscription at Findmypast.com.au.
Disclosure: I am a Findmypast Global Ambassador and receive a free PRO subscription from the company.
---
Endnotes
1. National Library of Ireland, "Catholic Parish Registers at the NLI", digital images, National Library of Ireland (https://registers.nli.ie/registers/vtls000634459#page/26/mode/1up), Dunleckney Parish (County Carlow), Diocese of Kildare and Leighlin, "Baptisms  03 Jan 1858–09 November 1879"; digitized from NLI microfilm 04195/08.
2. "Ireland, Petty Sessions Court Registers", database with images, FindMyPast (http://www.findmypast.com), entries for James Lowery (with variations), 1861 and 1862.
3. "1881 England, Wales & Scotland Census", database with images, FindMyPast (http://www.findmypast.com), entry for Catherine Lowery, 23 Boscombe Road, Hammersmith, London, Middlesex; citing The National Archives of the UK RG11, piece 61, folio 99, pg. 39 (stamped).